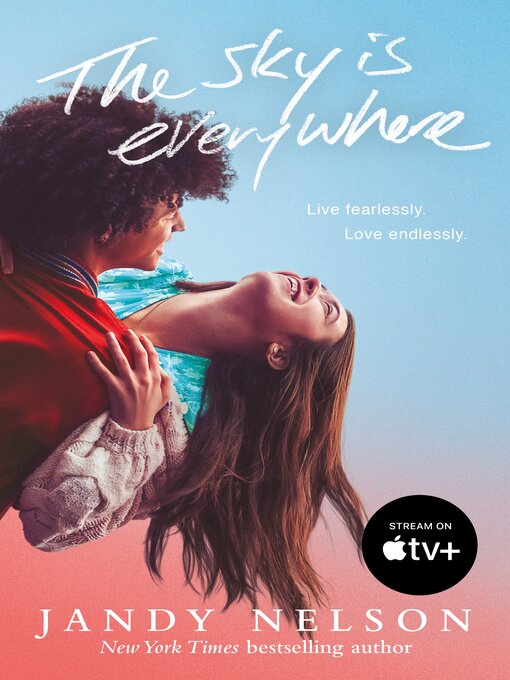 Poignant. Beautiful. These two words sum up this book more than anything else I could say. Nelson handles the topic of death very carefully and what Lennie goes through really reflects the five stages of grief (denial, anger, bargaining, depression and acceptance in that order if you're at all interested) in a very realistic manner. It was also beautifully written, and I especially liked the
scribbled
poems and notes, that Lennie had 'scattered' around her town, at the beginning of each chapter, which, given that I
normally
don't like poems at all, can be nothing but a positive, and a demonstration of how amazing this book is – I even found myself skipping chapters and flicking through just so I could read the poems sooner!
The Sky is Everywhere follows the life of Lennie as she struggles to come to terms with the death of her sister, the sister she has always admired, the sister she's always been best friends with, the sister she's always lived in the shadow of, and has been perfectly happy to do all of those things; and truly, though the reader never 'meets' Bailey, she seems like an incredibly fun character and it's no wonder she meant so much to Lennie and everyone who knew her; but when she dies suddenly and unexpectedly, shy Lennie is left to face the world on her own, which is slightly complicated for her just-as-sudden experiences of first love – for her sister's boyfriend, not to mention Joe, the gorgeous
new
boy in school…
You might be thinking that a book centred on death and its after-effects would be pretty depressing, but you'd be very very wrong – not only is this book beautiful in every aspect, it is touching, quirky, sweet and even funny – it takes you on a real rollercoaster of every emotion out there, sometimes just within the same chapter! You feel an incredible amount for nearly every character that you come across in this stunningly perfect debut (yes, debut – I'm so jealous of Nelson's talent but so looking forward to other delights she'll hopefully have to offer!), such is Nelson's amazing writing style. I cannot praise this book enough, and any words I write about it just feel too inadequate – read it, and you will not be disappointed! (I'm actually regretting lending it out from my library, purely because I have to return it and I want to keep it forever!)
The only reason I'm hesitant to give it five stars? I've been given the highest accolade out a

lot recently, I know, but I really do feel that the books that are given five stars truly deserve it, at least at the moment anyway, and so this is getting:
________________________________________________________________________
[SYNOPSIS:
Seventeen-year-old Lennie Walker, bookworm and band geek, plays second clarinet and spends her time tucked safely and happily in the shadow of her fiery older sister, Bailey.
But when Bailey dies abruptly, Lennie is catapulted to centre stage of her own life—and, despite her nonexistent history with boys, suddenly finds herself struggling to balance two. Toby was Bailey's boyfriend; his grief mirrors Lennie's own. Joe is the new boy in town, a transplant from Paris whose nearly magical grin is matched only by his musical talent. For Lennie, they're the sun and the moon; one boy takes her out of her sorrow, the other comforts her in it. But just like their celestial counterparts, they can't collide without the whole wide world exploding.
]